Saturday, July 22, 2006
Pissed..my dad, asked him to guide me alittle on the bridge building..in the end..got told off by him..saying wat..."w
h
ere got only use satay stick, thats impossible!" if i could use other materials i would have gotten metal plates ah!...of coz is the sch's restriction
la...then i
n the end say i sure fail..screw it man! i got some idea frm him..i'll make use of it and make a better one...b
asket! look down o
n me..i'll prove it to u! ytd the native speaker frm england whos here to teach us Compro, he lost his cool! saying tt we're the worst bunch of all, doing noting but looking at pictures, wassup wif looking at picture! its not like w
e d
in do your stuff...he tends to bring unrelavent tings to his lesson, wtf! bring someting nice to talk about..we went KFC t
o have lunch, fun, laugther owned the whole KFC at bukit timah
plaza...after tt we took picture at the hill again..t
his time shawn the casper stayed at the foot...it was really fun..damn damn damn fun, P1A7 is the best..ppl..u guys rock..anyways..heres the picture we took..enjoy..
Weiric
sat under the tree @ Saturday, July 22, 2006
Thursday, July 20, 2006
hey ppl, think theres some problem with blogger ytd, couldnt post la..dunnoe why oso...anyways ytd afternoon had rashes on my leg..dunno wat happened maybe too many gin? haha...so my dad ask me to stop, drink little can le...distributed the prizes we got on tuesday, got 1 box of plain biscuit, 1 cup of super cup noodles and 7 to 10 mentos sweets.
.
anyways...recieved yesterday the picture of our class in the jersey...taken by our advisor using gloria's cam. thanks gloria for the picture...and i looked at my picture i think i look rather constipated..damn funny. even terence said so...damn damn funny la..i also dunnoe why i did gave tt face...think the sun too bright maybe...now having IS com.tool and IAC later..boring like shit man waste my time so i decided to blog then...oki..will be back tonight hopefully if i got tings to blog about...and no ppl come and see my blog!! its the first time i put video at the previous entry!! sobs!!! oki guys..will be back soon..bye...
Weiric
sat under the tree @ Thursday, July 20, 2006
Wednesday, July 19, 2006
hey ppl i've posted the video here so..enjoy..sorry for the vulgar langauge at the start of the video..sorry..its the first time i put videos on...therefore the positioning aint any good...sorry!


Weiric
sat under the tree @ Wednesday, July 19, 2006
Tuesday, July 18, 2006
hey ppl, yep im back..damn tired..finish playing the soccer got 4th..nice game ppl, good job...anyways..was tinkin of her during the game, jess wasnt there, only yochi came..damn funny
i kept laughing when he told me tings la...buay tahan..best man him..damn sad in the end became happy..hahah...


Had lunch at pizza hut today...after tt we went to the hill and took a picture...damn damn damn funny and
nice best man..we rock man 1A7 best! we're the first ones to take a photo there man..and at the junction there are another bunch of NP students taking pic of us...wif a digi cam man! the picture is at the bottom of this entry go ahead and check it out ba..so..we all ran down the hill, video taken by MD, the most funniest was Shawn when he came down. Sandeep said he looked like Casper..haha! seriously damn funny..had fun today man.

back to the soccer topic..yochi gave a analysis on it..damn funny i read it and laughed my butt off...but serious..when the ball came to chest level all the players became muay thai boxers lifting their leg damn damn high. Short ppl are really gung-ho when it comes to soccer, i agre
ed wif tt frm yochi..according to yochi in order to be the champ. we have to wear the socks so high like panty-hose to seduce the enemies..damn damn funny entry by yochi..go check out his blog for more man..anyways thanks for coming to my blog...will be back soon..thanks!! see you guys..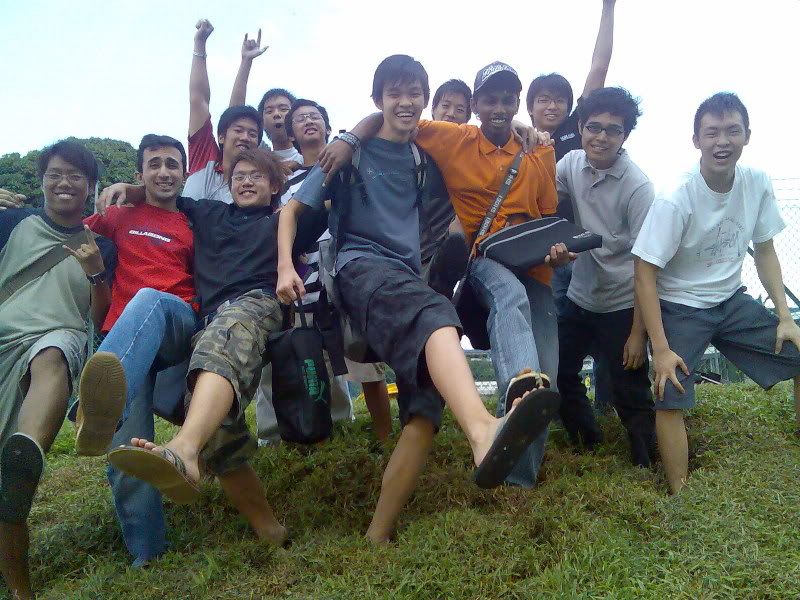 The fun and united ppl of 1A7 M.E.
Weiric
sat under the tree @ Tuesday, July 18, 2006
yes..its tuesday...the much awaited tuesday...goona go collect our jerseys later during the break and rush back for class..YL wont be here.so sad..tot she would be..well project is more important..i seriously tink this way too...now having class at blk 44 of NP and lesson is Cprog. so sian!!! hahaha..dunnoe wat to do...today i broke the record..i wore slippers!!! i brought shoes along la..today bag damn heavy..got 2 boots and 1 shoes stupid siva..all ur fault! damn heavy la...backaching now..hmm..shall lisn to class now..blog later tonight..see ya..wish me luck for the game and hopfully YL will be here..
Weiric
sat under the tree @ Tuesday, July 18, 2006
Sunday, July 16, 2006
Heylo..yep im back again...trying really hard to think of wat to blog about so not to make u all too bored when u come to my blog..din really did much today..juz went home and tried studying...in the end became slping...almost gave up doing MOL..Tml will be having fatty foo's labtest EECAD...waste of time..dunnoe whats tt for at all man..only my neighbour says its easy...currently doing noting juz chatting wif senior and april..letting her vent her anger la..dunnoe wats wrong oso..today went to see my 2nd aunt who got emitted into the hospital...yes..east shore again..today even worst the toilet..got vomit at the sink and the aunties or uncles din even bother to clear it up la..damn disgusting lor...yuck!


i found out tt my class always have different opinion de..some die die oso must argue until they win one..
like glor. lor..We wanted to have the shirt colour to be blue then in the end kenna psycho by her till all take white...actually oso can la..then they say the fonts dun wan fancy take normal fonts...even the MD's uncle oso say too normal like anyone out on the streets....so..heard tt the fonts will be made like Real Madrid's fonts....guess it'll look nice on us....tuesday...is only like 1 day away...the match will take place at 5 pm at the admin field...so..hopefully we, P1A7 can make it to the top against the other teams..and win a trophy...must must must win...
Ytd went home wif YL after badminton and lunch...went to her ex.classmate's place to pass him the charger for her camera..so..went together..she walked towards the door and passed it to her classmate's mum...i hid next to the door...alittle afraid of being exposed..haha..so after tt..went to bishan mrt station to meet her cousin...jo*****...cannot tel u all the full name hahah...so..met her and she bought her 1.70 cookie..basket 1.70 for one cookie!!!! wah lao! 1.70 can buy one slurpee and drink for like 1 hr la! 1.70 leh..then after tt saw green410 YL started running, then i followed...carrying my shoe bag...YL held my racquet..thank you..and jo ran too..in the end her cookie dropped on the floor..only ate 3 mouth..and there goes 1.70..down the dustbin..haha...sent YL and her cousin to the bus stop and then went home..my mum and dad went to buy 4D ah..haiz...their usual hobby every weekend and some times on wednesdays...
Think ytd afternoon ate too much beef la..had one beef noodle and beef stew when having lunch wif YL, Hui and FFX..hui and FFX went different way la..so me and YL went back lor..so happy! ahhaha...then reached home the pasar malam..bought one beef burger to eat...in the end at night..around 11 plus wah!! rashes all over my leg man..itchy like dunnoe wat...ate the allergy medicine and then fell asleep..then tis morning my mum came in and check if my leg still got rashes not..lucky it stopped..hahah! well...guess i should signed out now..getting late....aww! tml..monday..monday blues man..marathon 5 hour lesson..die....see ya ppl....
Weiric
sat under the tree @ Sunday, July 16, 2006